The TV chef Anthony Bourdain has died at the age of 61.
The cable news network CNN, which hosted Bourdain's globetrotting culinary travel guide Parts Unknown, confirmed Bourdain's death on Friday and said it was suicide.
The CNN chief executive, Jeff Zucker, sent a note to staff saying the circumstances of the death are still unclear but that "we do know that Tony took his own life".
"Tony was an exceptional talent. A storyteller. A gifted writer. A world traveler. An adventurer. He brought something to CNN that no one else had ever brought before," Zucker said in the letter. "This is a very, very sad day."
Bourdain was understood to have been in France working on an upcoming episode of his award-winning CNN series. His friend Eric Ripert, the French chef, found Bourdain unresponsive in his hotel room.
Earlier on Friday morning, CNN had issued a statement and tribute, saying: "His love of great adventure, new friends, fine food and drink and the remarkable stories of the world made him a unique storyteller. His talents never ceased to amaze us and we will miss him very much. Our thoughts and prayers are with his daughter and family at this incredibly difficult time."
Bourdain pioneered a new generation of culinary storytellers with his groundbreaking 1999 book about the chaos and competitiveness of running a leading professional kitchen, Kitchen Confidential: Adventures in the Culinary Underbelly.
He also wrote Medium Raw: A Bloody Valentine to the World of Food and the People Who Cook.
The British celebrity chef Nigella Lawson tweeted: "Heartbroken to hear about Tony Bourdain's death. Unbearable for his family and girlfriend. Am going off Twitter for a while."
In his television series, he could be found drinking beer with Barack Obama in Hanoi or hanging out with Iggy Pop in Miami.
"I'm proud of the fact that I've had as dining companions over the years everybody from Hezbollah supporters, communist functionaries, anti-Putin activists, cowboys, stoners, Christian militia leaders, feminists, Palestinians and Israeli settlers, to Ted Nugent," he once explained.
"You like food and are reasonably nice at the table? You show me hospitality when I travel? I will sit down with you and break bread."
Iggy Pop tweeted that he was in shock at the news of Bourdain's sudden death.
"I loved the guy, and he was a light of kindness and good vibes in my life," he wrote.
The British celebrity chef and TV personality Gordon Ramsay said on Twitter that he was "stunned and saddened" by Bourdain's death, adding: "He brought the world into our homes," and including a counseling helpline number in the UK.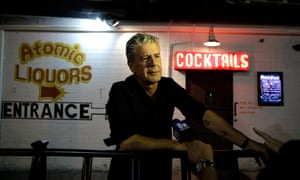 Bourdain's CNN colleague and friend, Christiane Amanpour, said: "My heart breaks for Tony Bourdain. May he rest in peace now. He was a friend, a collaborator, and family. A huge personality, a giant talent, a unique voice and deeply, deeply human. My heart goes out to his daughter and family, and his longtime partners and friends at ZPZ [Zero Point Zero productions]."
Bourdain cultivated an image as a "culinary bad boy", and delighted in eating from the extreme end of food spectrum, whether sheep's testicles in Morocco or raw seal eyeball in the Arctic. Besides a chicken McNugget, he said the most disgusting thing he'd ever consumed was unwashed warthog anus.
Bourdain was heralded for his informal role as an ambassador to American television audiences for the rest of of the world.
Civil rights activist Imraan Siddiqi, a director at the Council on American-Islamic Relations Arizona branch, hailed Bourdain's representation of the Middle East.
"In this age of Islamophobia and otherization of Muslims through media, Anthony Bourdain used his platform to humanize Muslims through culture and food ," Siddiqi wrote on Twitter.
Julián Ventura, the Mexican ambassador to the United Kingdom, praised Bourdain on Twitter as "one of the greatest, most knowledgeable ambassadors of Mexican food and an uncompromising defender of the contributions of Mexican migrants to the US".
In the past year, Bourdain was also a passionate advocate for the #MeToo movement, which had been energized in part by his girlfriend Asia Argento, one of the first actors to publicly accuse the Hollywood producer Harvey Weinstein of rape.
Bourdain championed women coming forward with accusations against high-profile men and attacked those they accused and reflected on his own role in perpetuating this sort of behavior. "Look, there was a period in my life in the kitchen where I was an asshole. I was. I would do the classic, throw plates on the ground … curse, scream. But I like to think I never made anyone feel uncomfortable, creeped out, or coerced, or sexualized in the workplace.
"If somebody was taking their personal business out on a female employee, or creeping on an employee, they were gone," he told Slate last year.
Bourdain was candid about his history of drug use. He said he had also smoked cigarettes and drunk alcohol to excess.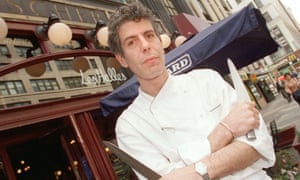 "We were high all the time, sneaking off to the walk-in refrigerator at every opportunity to 'conceptualize'. Hardly a decision was made without drugs," he wrote in Kitchen Confidential.
In 1999, he wrote a New Yorker article, Don't Eat Before Reading This, which became Kitchen Confidential. Those stories were largely based on his years working at Les Halles, a French bistro on Manhattan's Park Avenue South. He delighted in the shocking or unhygienic aspects of the chef's trade.
In 2013, while accepting a Peabody award, Bourdain described how he approached his work.
"We ask very simple questions. What makes you happy? What do you eat? What do you like to cook? And everywhere in the world we go and ask these very simple questions," he said, "we tend to get some really astonishing answers."
Astronaut Scott Kelly wrote on Twitter: "I watched his show when I was in space. It made me feel more connected to the planet, its people and cultures and made my time there more palatable. He inspired me to see the world up close."
In the UK, Samaritans can be contacted on 116 123 or email [email protected]. In the US, the National Suicide Prevention Lifeline is 1-800-273-8255. In Australia, the crisis support service Lifeline is 13 11 14. Other international suicide helplines can be found at www.befrienders.org.