Local travel and tourism takes huge hit from COVID-19 lockdowns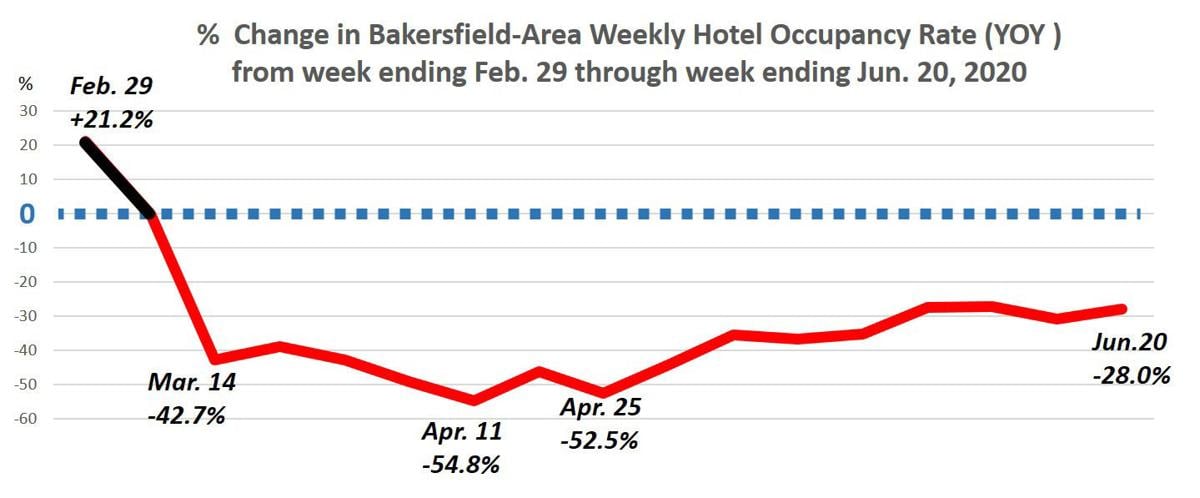 Expectations were high when Home2 Suites by Hilton opened in Bakersfield two days before the turn of the New Year.
Travel and tourism were on the upswing, and the city was projecting another record year in the local hospitality industry.
By early March, the new, extended-stay hotel was climbing steadily toward a 90 percent occupancy rate.
Then the bottom fell out.
"COVID hit, and — boom — it fell to 20-something percent," said Denise Taylor-Connor, the hotel's director of sales.
It wasn't management's fault. It wasn't the customers' fault. The crash was happening everywhere, and it was steep.
David Lyman, manager of Visit Bakersfield, formerly the Bakersfield Convention & Visitor Bureau, watches the data closely. The most important number he studies is metro Bakersfield's hotel occupancy rate, which is the number of hotel room nights sold divided by the number of hotel room nights available.
In the week ending Feb. 29, Bakersfield's weekly hotel occupancy rate was 21 percent higher than it was during the same week last year. A huge chunk of the increase was due to the CIF state wrestling championships, which were held that week.
Then the occupancy rate went into free fall. Exactly two weeks later the rate was nearly 43 percent below where it was the year before.
"Unfortunately, that wasn't the lowest point," Lyman said.
By the week ending April 11, the occupancy rate was 55 percent below the same period last year.
"This was not unique to Bakersfield. This was not unique to California," Lyman said. "We saw declines in hotel occupancy across the nation. Actually, it's a world-wide issue in terms of travel and tourism."
In late April, the rate began improving, until by June 20, the free fall had nearly been cut in half.
"It flipped from 55 percent to 28 percent," Lyman said, which at the time was slightly better than the national rate, which was a 30-percent deficit from 2019.
Unfortunately, hotel occupancy rates aren't the only indicator of trouble ahead.
According to projections from the U.S. Travel Association, domestic travel is expected to decline 40 percent this year. Significantly fewer Americans will be buying plane tickets or driving to vacation spots.
International inbound travel — people visiting the United States from France, Germany, Korea, China, Italy and other foreign lands — is projected to decline by a whopping 75 percent. That means the $155 billion generated by international inbound travelers last year will likely fall to about $39 billion.
"The travel industry has been severely damaged by the health crisis," Lyman said.
If there's an upside, it's that the occupancy rate has been moving in a positive direction.
"What the rate doesn't show is the impact on RV travel and camping," Lyman said.
Ryan Uhles, manager of River Run RV Park in Bakersfield, said the industry took a pretty big hit early in the pandemic, but it bounced back pretty quickly.
"RV sales are up," Uhles said.
"RV campers take their own sheets, they take their own dishes with them."
They feel they can practice social distancing while being away from home. Meal preparation requires no outside contact.
"They have control over their own environment," he said. "We can do contactless check-in."
Uhles said he thinks the industry is "in a good spot" to be a steady business that doesn't experience the ups and downs that come with changes in government policy and social perception.
Taylor-Connor, of Home2 Suites, said she feels blessed that occupancy numbers haven't dropped into the single digits like many hotels have seen, especially hotels with meeting rooms. And they've been improving.
Hilton, she said, has moved fast to respond to guests' concerns by changing breakfasts to the "grab and go" format, and developing Clean Stay, a system designed to give guests confidence that everything possible is being done to minimize and mitigate, including sealing the door of suites, seals than may not be broken by housekeeping or other employees while the guests are gone.
But with new spikes in cases and hospitalizations being reported — and new government requirements taken in response — it seems as though Lockdown 2.0 may be in play.
"I'm worried about our staff," she said.
It's a worry shared across the land.
Post your own content click here  | Click here to receive free email updates |  Source: News feed