Maharashtra e-Pass: How to get Maharashtra travel e-pass during lockdown?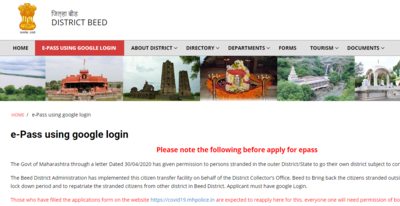 MUMBAI: The Maharashtra govt has launched an exclusive website to issue e-passes to people who want to enter or exit the state. People who want to travel in and out of Maharashtra need to register for the e-pass on the official website giving information about why and where they want to travel. The district authorities will review details submitted by applicants before approving the e-pass.
If you are intending to enter or exit Maharashtra, then you must first register on the official website for e-pass. Note that Google Login is required for e-pass application. So, if you don't have a Google login, you need to create it first and then apply for the e-pass. Here's a step-by-step guide on how to apply for e-pass in Maharashtra:
How to apply for Maharashtra e-pass?
1) Open the Maharashtra travel e-pass application link – https://forms.gle/22xv3s6ACAkHZjzk8 and login using your Google account
2) Select option where you want to travel, and then click on 'Next'
3) An online application form will open
4) Fill in your details such as – name, mobile number, date of birth/age, address, area for which e-pass needed, etc.
6) You also need to upload ID Proof, Photo of applicant, Vehicle Type & Vehicle No., Medical Document and click on submit
7) Once your application is submitted, it will be reviewed by the district authorities
8) After approval, the e-pass with passenger and vehicle details will be sent to the applicant through SMS and e-mail. The e-pass can also be viewed, downloaded and printed from the website.
The phase 3 of lockdown in India will end on May 17, 2020. Maharashtra CM Uddhav Thackeray on on Thursday, indicated that the lockdown may be extended till the end of May in the state's red zones, especially the Mumbai and Pune metropolitan regions.
Post your own content click here  | Click here to receive free email updates |  Source: News feed