As a meal choice it is on the decline, losing ground to seitan burgers and poké bowls as millennials run scared of the humble spud. But one fish and chip shop near York has hit on a novel way of attracting customers: translating its menu into Mandarin.
Scotts Fish and Chips near York now serves more than 100 Chinese holidaymakers a week after launching a Mandarin website and promoting its deep-fried delicacies on Weibo and WeChat, China's answer to Twitter and WhatsApp.
The Yorkshire chippy's newfound popularity has been put down to the fish and chips and pint of Greene King IPA that Chinese president Xi Jinping shared with David Cameron in 2015, during a diplomatic flirtation dubbed the "golden era" of UK-China relations.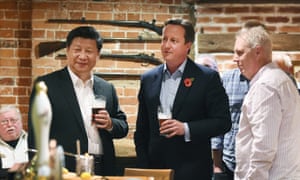 Three years on, the two countries' relations may have cooled but the "Xi effect" appears to be very real.
During the busy lunchtime rush on Thursday, Scotts' manager, Roxy Vasai, said they were experiencing a Chinese boom. "We look out for a coach and, when they're coming, we shout 'they're here, there are 20, 30, 40, let's make it ready for them'," she said.
Staff want to make dining at the restaurant a real occasion for visitors, she said, with chefs and waiters regularly posing for selfies with their Chinese diners. "We have fun, we make them feel welcome. They like to take pictures so it's something to share with family and friends."
Vasai said staff had been surprised by its burgeoning popularity and that some were swapping the traditional Yorkshire "ta, love" for Mandarin. "We've started learning a little bit, things like 'thank you' and 'bye bye'," Vasai said. "In the future we will know how to say more – we just ask the Chinese and they tell us."
---
possible to reach millions worldwide
Google News, Bing News, Yahoo News, 200+ publications
---
The restaurant sits next to a McDonalds on a busy A road six miles south-west of York. Yet the global fast-food giant appears to be no competition for the local-run chippy – at least, not with Chinese visitors.
Many of the east Asian diners opt for the £12.50 cod and chips washed down with a cold pint of Yorkshire bitter, said the restaurant's owner Tony Webster. Others eschew a Yorkshire brew and ask for hot water for their own Chinese tea.
"The word is spreading," he said. "The Chinese are very active word-of-mouth marketeers themselves, so by embracing their language and social media platforms, that's the thing that really seems to be working for us."
Scotts offers tiny tasting portions for fish and chip virgins — few Chinese visitors dare tackle the "Moby Dick" portion, a 14-inch battered beast too filling for even the greediest of regulars.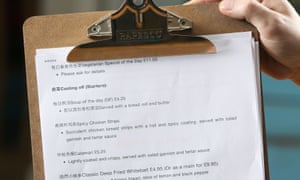 Visits to the UK from China have increased 89% in the past five years, to 337,000 last year, according to Visit Britain. The north of England has seen an influx of Chinese visitors since the introduction of a direct flight between Manchester and Beijing in June 2016 and from Hong Kong to Manchester in December 2014.
As a result of both routes, nearly 700,000 people have travelled between China and the north, 224,000 to and from Yorkshire, according to Manchester airport.
The tourism boom has been good news for British business: Chinese visitors are some of the UK's highest spenders, spending on average £2,059 during their visit, more than three times the all-market average.
Andrew Speke, who leads Chinese language food tours in London for BeiWei 55, said fish and chips was top of the must-try list for a new breed of middle class Chinese tourists.
"We've moved on from the days where all Chinese people went around Europe on a coach and had all their meals in suburban Chinese restaurants," said Speke. "Our customers are the Chinese middle classes from first or second-tier Chinese cities. They watch Downton Abbey and Sherlock and they want the classic British experience."
He takes Chinese visitors to the Fish Kitchen, an upmarket cafe in London's Borough Market, where cod, chips and mushy peas costs a cool £18.95.
Unlike other foreign visitors, the Chinese don't flinch at the suggestion they douse their chips with vinegar, said Speke. "Vinegar is more popular than soy sauce in northern China, so in cities such as Beijing and Shijiazhuang. It's in the south of China and Hong Kong where people dip their dumplings in soy."
There is a common misconception among the Chinese that Britons eat fish and chips every day. "Sometimes they ask how we are not all very fat eating like this," said Speke.
Chinese tourists also find it difficult to understand why so many British meals are cold. "They think it's strange that we might have cereal for breakfast and sandwiches for lunch. It's not unusual for them to have noodles for breakfast and then a big cooked lunch. The cold things they do eat tend to be strongly flavoured, such as pickles, or side dishes with a lot of chilli. A cold pork pie tends not to go down too well."
Although Chinese visitors are often keen to sample England's gastronomic delicacies, they do not always return for seconds. Liuzixin, a 20-year-old student visiting Manchester from Beijing, told the Guardian she found the fish and chips she sampled in York "a little boring" in comparison to the "variety of food in China".
Zhuqiongyang, a 24-year-old student from Henan, agreed. "We don't like fried food," she said, adding that she loved the chocolate cake and cheese she tried in Britain.
British beer is more popular. Chinese sales of Green King IPA went through the roof after receiving Xi's endorsement and the pub in Princess Risborough near Chequers where he and Cameron toasted their friendship was bought by a Chinese investor who plans to copy it for an Asia-wide chain.
Andrew Crook, president of the National Federation of Fish Friers, which works to protect and promote the interests of fish and chip businesses throughout the UK and beyond, said he had not heard of any other dedicated chippies offering a Chinese language menu. "It's a great idea though," he said.
He has advised aspiring chippy owners in China, Japan and Vietnam on how to run an authentic establishment and says China is a fast growing market. Xi's visit to Britain was the catalyst, he said: "Chinese people saw on TV this very English scene of a pub and a pint and some fish and chips and wanted to try it themselves."